About Us
About TBAM
---
Company Profile
Established in 1997, TBAM has been actively growing and strengthening relationships between Thai Foreign and local business communities.



With strong networks and memberships, TBAM hosts many monthly and annual events including Morning Talk, Myanmar Update, Myanmar Insight, Meeting the Government and Economic Trips. In addition, Joint Chamber Networking Events and other business engagement activities promote B2B matching opportunities both in Myanmar and internationally.



TBAM has a strong database of business contacts and over 150 members including corporate and SME companies in all major industries.
Objective of TBAM
To develop and encourage cooperation amongst Thai Business persons in Myanmar
To develop and encourage good relationships between Myanmar and Thais in Business sector.
To transfer and promote technical know-how and business cooperation amongst Thai's and Myanmar's business in terms of technology and management.
To participate in Myanmar charity and cultural activities' The Thai Business Association may acquire sepcial funds for charity and cultural actvities and shall invite member to make donation for such activities.
To promote business ethics and practices
To support Myanmar's policy of market-oriented economy by promoting and encouraging investment in Myanmar. At the same time, promote the business practices accordance with the laws, rules, regulations, procedures and culture of Myanmar.
To act in capacity which is in any way connected with any of the above objects of the association.
To have no involvement in politics
Why need to be member of TBAM
Member will be entitled to officially announce and advertise their activity in the website of TBAM as well as communication channel of TBAM.
Member will be entitled to advertise your business in the TBAM Membership Directory.
Member will have the right to participate in the seminar, meeting or any academic training which TBAM organize for cooperation with all parties.
Member will have the right to participate in any activities that TBAM organize with all official corporation.
Member will get and official news and information of latest news and business update for the purpose of the situation analysis as well as to set up your own business strategy.
Member will be able to access to the link of the Thai business community network and a diverse International business companies, across a broad range of industry sectors.
Organization Flow Chart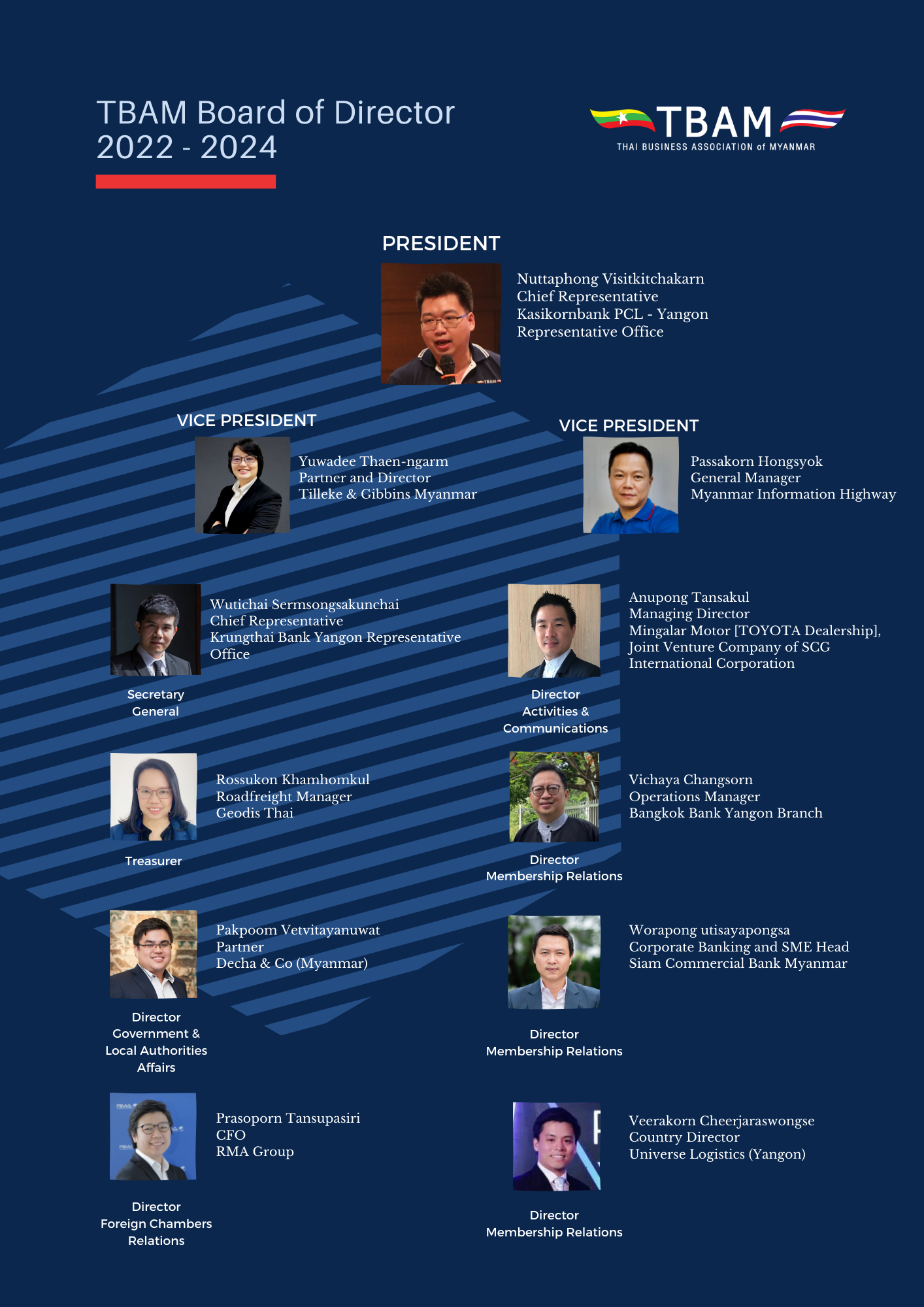 Quick Link
---